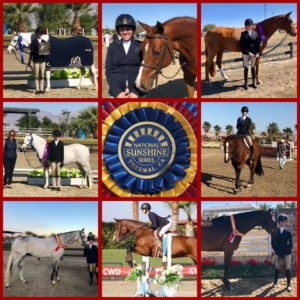 Team Willow Brook had a great finish to a fantastic year at HITS Sunshine II!
Tessa & Elite Hollywood Smoke were Grand Equitation Champion, and Reserve Champion in the Pony Prix.
Tessa picked up a catch ride on Heavenly Patch of Blue and rode to Pony Champion. Thanks Christa and the Roseboom's!
Jen & First & Goal were Champion in the Adult Amateurs.
Kata & Lost in Blue were Champion in the Equitation.
Kata & Balletomane were Reserve Champion in the Juniors & Classic.
Izzy won the CPHA Medal with Alley Oop.
Izzy & Breeze earned top ribbons in the Juniors.
Steph & Cluny earned top placing in the Adult Amateurs.
Thank you and congratulations on a great show!