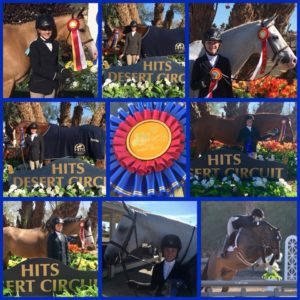 What a week!
Izzy – Champion, Reserve Champion, & Classic Winner in the Junior Hunters  with Cluny & Breeze
Tessa & Elite Hollywood Smoke – Reserve Champion in the Pony Equitation
Tessa & Rose Gold – Reserve Champion in the Green & Medium Pony divisions
Ann & My Hero – Reserve Champion in the Adult Equitation
Kim & Island Time – Champion in the Modified Adult Amateur Hunters. Island Time was also Champion in the Low Hunters
Hannah & Ironman – Great ribbons in the Amateur Owner Hunters & Best AO Rider
Kata & Incroyable – won the THIS Medal out of 48
Kata & Style Wise – Reserve Champion win the Schooling Pony Hunters.  Kata was also voted Best Pony Rider! She also won Reserve Champion with a catch ride in the Large Pony division.
Tori won with Batman in their divisions!! Steph had top ribbons with Primetime in the AA's.