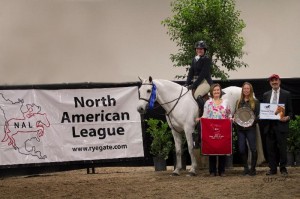 Seventeen starters took part in the $5,000 NAL West Coast Adult Hunter Final, and it was Stephanie Goodson of Beverly Hills, CA, who came out on top, clinching both first and second places aboard her own horses Poetic and Leonetti respectively. Third place went to Clare Grady of Morgan Hill, CA, who rode Deborah Orent's Canadian's Kid.
"It was so special to be in Las Vegas, win this class, and have so much fun with both of my horses," said Goodson, who was competing in her third NAL West Coast Finals. "It's such a great opportunity to have a NAL West Coast Finals. I'm so glad we have it!"
Excerpt from North American League. Click here to read full article.