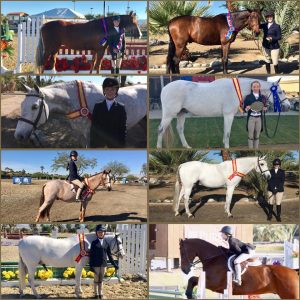 Heating it up at the Sunshine Horse Show at HITS!
Izzy & Cluny were Champions in the Low Junior Hunters. Harriet & Leonetti were Champions in the Adult Amateur Hunters. Hannah & Catwoman were Reserve Champion in the Amateur Amateur Owner Hunters. Kata picking up a catch ride from Balmoral Farm on Kistler – was the Classic Winner and Reserve Champion Children's Hunters. Tessa & Northwind Fancy Pants were Reserve Champion Children's Ponies. Stephanie & Poetic were Reserve Champion in the Adult Amateurs. Kata & Elite Hollywood Smoke were Champions in the Pony Eq & Reserve Champion in the Mediums. Ann & County Line had top ribbons in the A/As.
Congratulations ladies! You all were fantastic!!