What a great way to start the year! Hannah was Champion in the 3'6" Amateur Owner Hunters with Batman as well as Reserve Champion with Catwoman in the 3'3" AO Hunters. Tess and Tommy were Reserve Champion in the Schooling Small Pony, Short Stirrup Hunter and Equitation! Ann and County Line won great ribbons in the Adult Amateur Hunters. Kata was awesome in the ponies and she stepped up to the 3' aboard Primetime; This new team received scores of 82 and 83.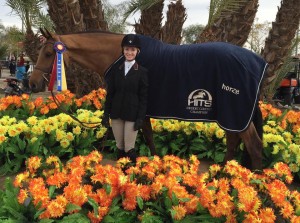 Week 2 Hannah won Champion and Reserve Champion in the 3'3" AO Hunters with Catwoman and Ironman, respectively. She was also Reserve Champion with Batman in the 3'6" AO Hunters. Steph and Poetic had a great start to their show season receiving great ribbons in the AO's. Tess and Tommy brought home a Champion in the Schooling Pony and Short Stirrup Equitation divisions. Kata and Primetime won their first blue ribbon together in the Children's Hunters. Kata was also voted Best Child Rider!
Willowbrook girls brought home mid circuit awards from Short Stirrup to the 3'6". Congratulations to Hannah on Mid Circuit Champion with Catwoman and Mid Circuit Reserve Champion with Batman. Tessa was Mid Circuit in the Short Stirrup Equitation and Mid Circuit Champion with Tommy in the Schooling Ponies.