Giant Steps Charity Horse Show – Sonoma, CA

What a week!! Kata and Northwinds Fancy Pants (Tommy) were Champion in the Children's Ponies, Steph and Poetic were Reserve Champion in the Modified Amateur Hunters, and Hannah took lots of blues with both Batman and Primetime!!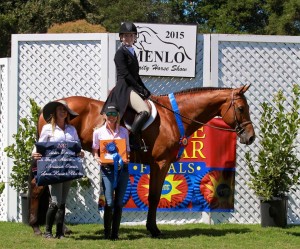 Menlo Charity Horse Show – Atherton, CA


I am so proud of my girls and their horses! What a fun week at Menlo. Hannah and Batman cleaned up, Champion and won the Amateur Owner Classic! Steph won great ribbons by receiving top scores with Leo and Poe in the Amatuer Owner Hunters. Kata picked up two catch rides in the ponies with great results. Well done ladies!