Riders and Horses Close Out 2017 with Numerous USEF, USHJA, and PCHA Awards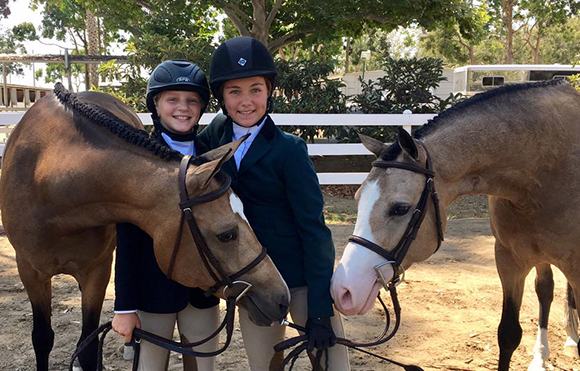 La Cañada Flintridge, CA – January 4, 2018 – Willow Brook Stables is a premiere hunter-jumper barn established, owned, and operated by Kate Considine. Having brought along numerous horses and riders to regional and national acclaim, the 2017 show season was no exception.
Although Willow Brook is a boutique barn, bringing eight or so horses to each competition, the year-end titles and awards achieved by its riders in the United States Equestrian Federation, the Pacific Coast Horse Show Association, and the United States Hunter Jumper Association Zone 10 are abundant.
"It was such big year for Willow Brook and I'm so proud of all of our riders," Considine enthused. "I can't believe we finished 2017 with nine championships from the PCHA. I don't think we've ever had such a winning year all across the board."
While balancing horseback riding and competing with a developing career as a singer, Hannah Goodson-Cutt and her remarkable Ironman began their 2017 season at HITS Coachella earning multiple championship ribbons and two Best Amateur Rider awards. The duo finished the season as PCHA Reserve Champions in the 3'3" Amateur Owner Hunters 18-35 and third overall in USHJA Zone 10 standings. In the Adult Amateur Hunters 18-35 division, Stephanie Goodson and Poetic were PCHA Reserve Champion. Amateur riders Ann Deren-Lewis, Harriet Posner, Kim Nelson, and Jennifer Rawlings also had success at horse shows throughout the year.
2017 was a standout year for junior rider Isabel Coxe and her two chestnut hunters Cluny and Jovial. She finished the year with a PCHA and USHJA Zone 10 Reserve Championship in the 3'3" Large 15 & Under Junior Hunters with Cluny. Making her debut at the 2017 USEF Junior Hunter National Championships West, Isabel finished fourth overall with Jovial in the Small 3'3" 17 & Under division and was competitive in every class entered with Cluny.
Willow Brook riders had stellar results in the Children's Hunter and Children's Pony Hunter divisions. Tessa Buchanan and Rose Gold were PCHA and USHJA Zone 10 Children's Pony Hunter Champions. Katalina Rickard and Hannah Goodson-Cutt's Prime Time concluded the season with a PCHA Children's Hunter 13 & Under Championship, PCHA Overall Grand Children's Hunter Championship, and a USHJA Zone 10 Children's Hunter Championship. Katalina also brought home top ribbons in the equitation with Masterpass and was second in points for the PCHA Equitation 11 & Under year-end award.
Katalina and Tessa also shined in the Medium Pony Hunters. Katalina rode Micaela Kennedy's Elite Hollywood Smoke to the 2017 USEF National Reserve Champion Horse of the Year Award in the Medium Pony Hunters. The pair's consistency also earned them the PCHA Championship in the division and PCHA Overall Grand Pony Hunter Champion. Tessa Buchanan and Darling Clementine took the PCHA Medium Pony Hunter Reserve Championship and were USHJA Zone 10 Medium Pony Hunter Champions. Katalina and Tessa were successful in the Pony Equitation as well, finishing the season with tricolors and top ribbons.
Willow Brook Stables is looking forward to attending the PCHA Annual Awards Dinner on January 6-7, 2018 in San Diego where riders will be recognized and also receive their well-deserved trophies and ribbons. The barn continues to enjoy home base at the historic Flintridge Riding Club in La Cañada Flintridge, California, and will begin the 2018 show season at the HITS Coachella Desert Circuit in January. Visit willowbrookstables.net for more information.