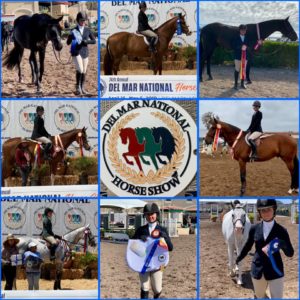 Del Mar National was a huge success!
Kata & Harriet's Juno had winning rounds in the Junior Hunters and earned Reserve Champion in the Classic. Thank you Harriet for sharing Juno with Kata!
Steph & Close Up won in the Adult Amateur Hunters with a huge score of 85!
Kim & Island Time were Reserve Champion and Classic winners in the Adult Amateur Hunters.
Izzy & Alant earned Reserve in the Maclay Medal. Izzy also had top ribbons in the Jumpers and the Hunters.
Kata & Lost In Blue claimed victory in the THIS Medal and were Reserve Champions in the Juniors.
Kata also picked up a few catch rides in the Ponies and was named Best Pony Rider.
Congratulations to all of our riders and team for an excellent week!