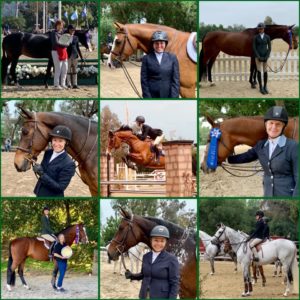 A week of fun and smiles at Flintrigde 98th Annual Show!
Tessa & Black Tie Affair were Champion in the Pony Equitation and Pony Hunters, and they won the Classic.
Izzy and Breeze were Champion in the Junior Hunters.
Izzy and Alant were Champion in the 15

-17 Equitation.

Izzy & Lombella earned top ribbons in every round in the jumpers.
Steph & Close Up won in the Adult Amatuer Hunters.
Marci & Clementine had the winning round with a score of 81.
Kim & Island Time earned blue in the Adult Amateur Hunters.
Ann & Fred had big success in there 1st show together earning top ribbons in every round.
Tessa rode a great work off  in the Onondarka Medal with Lost In Blue.
Next stop Del Mar National! We are so lucky to have such a great Crew!