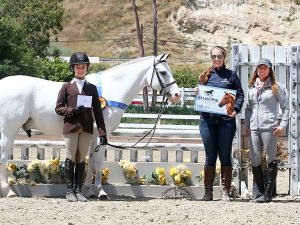 What a Mother's Day for Kate Considine! After accumulating 42 points in the Medium Pony Hunter Division during Showpark Ranch & Coast, Katalina Ricard and Elite Hollywood Smoke earned the SmartPak Grand Pony Hunter Championship & $50 Gift Certificate.
Tessa Buchanan and Rose Gold was all smiles in the winner's circle while being presented the SmartPak Grand Children's Pony Hunter Champion Award by SmartPak. They earned a total of 32 points including two wins over fences in the Small/Medium Division.
Congrats also to Stephanie, Ann and Harriet who all had great rounds in the AA's!